🇫🇷Bienvenue dans l'exposition virtuelle de la Ghouta Orientale. N'oubliez pas que derrière chaque photo se trouve une histoire : une histoire de souffrance, de douleur, de patience et de détermination pour la victoire.
Plus de 350 000 personnes ont vécu le siège le plus long du 21ème siècle selon l'ONU. Ils ont résisté et ont fait tout ce qui est en leur pouvoir pour rester sur leur territoire, ce qui leur a valu des bains de sang et des massacres. Ils ont simplement réclamé leurs droits en tant qu'êtres humains et la réponse du régime a donc été le siège, les bombardements, le sang, puis le déplacement hors de leurs quartiers détruits. Voici quelques extraits de la vie pendant le siège de la ghouta orientale 2013-2018.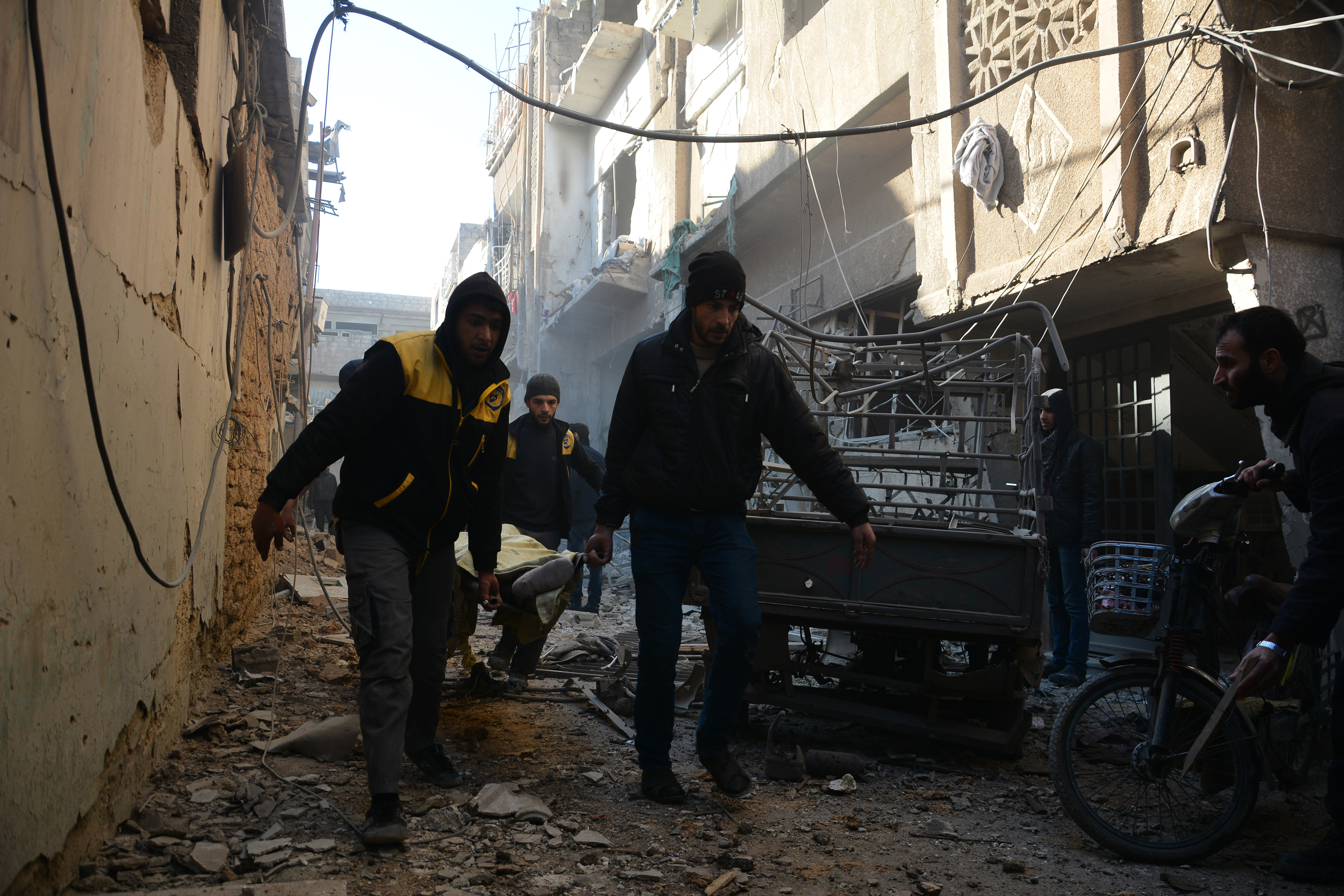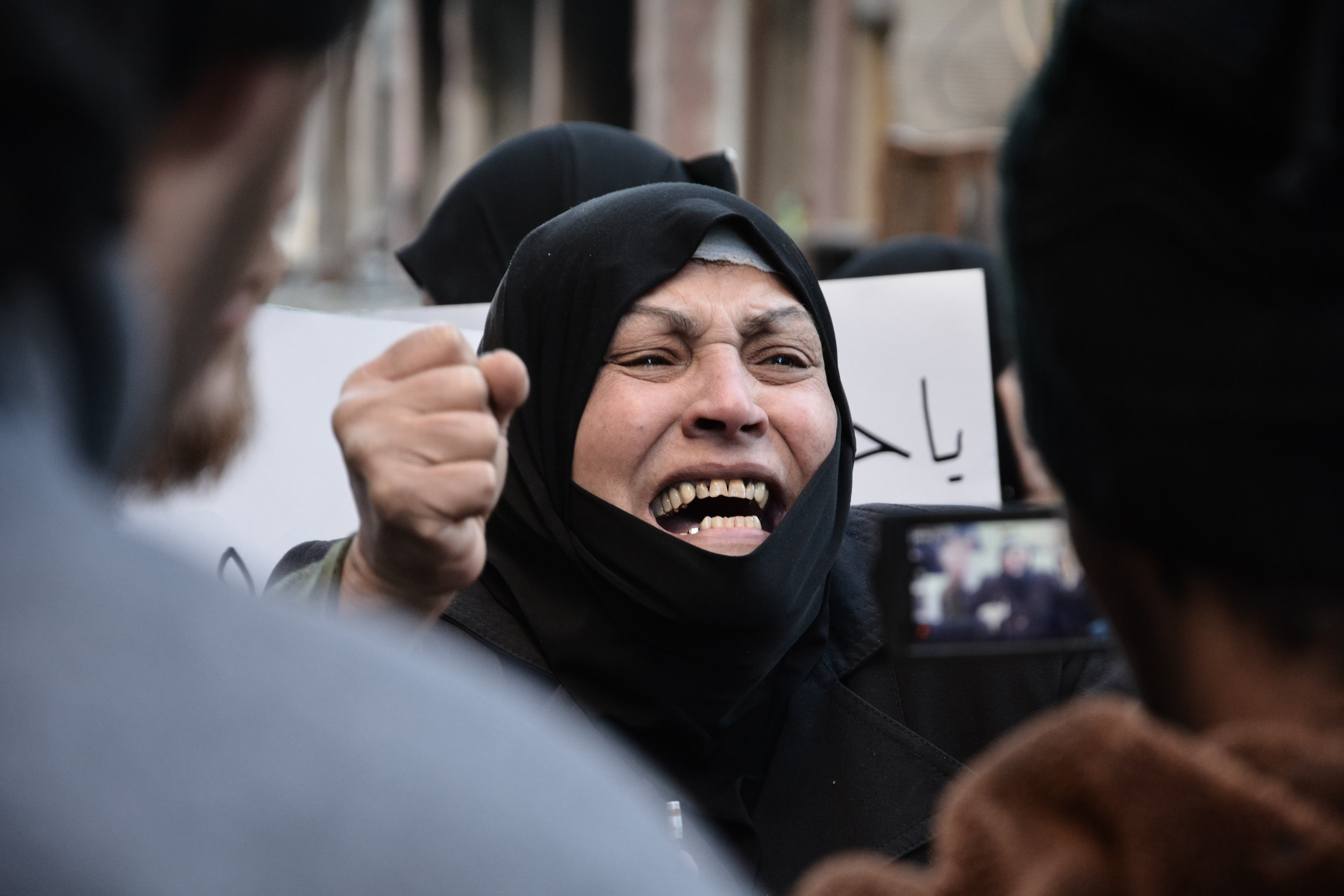 🇬🇧During the years of the severe siege imposed by the Syrian regime on Eastern Ghouta, the proportion of poverty increased considerably for most families and children who became orphans or homeless after losing their parents or their homes. These two images of two sisters were
taken in the town of Kafar Batna in Eastern Ghouta on August 12, 2017.
🇫🇷Pendant les années du siège sévère imposé par le régime syrien à la Ghouta orientale, la proportion de pauvreté a considérablement augmenté pour la plupart des familles et des enfants devenus orphelins ou sans abris, après avoir perdu leurs parents ou leur maison. Les deux photographies des deux sœurs ont été
prises dans la ville de Kafar Batna, dans la Ghouta orientale, le 12 août 2017.
🇬🇧Malnutrition of the besieged in Eastern Ghouta: Moustapha was 9 years old at the time of this photo. He lived with his parents and six siblings in Douma, Eastern Ghouta. Moustapha and his family became poor and had less and less access to food as the siege continued.
Due to malnutrition, Moustapha's weight dropped from 10 kg to 7 kg. "During the night, Moustapha's hunger pain worsens and he falls to the ground, holding his stomach and begging for food", Moustapha's mother said. "My heart breaks for him. He should be much bigger and stronger. He just stands there, silent, staring, barely speaking".
Moustapha was one of hundreds of malnourished children in besieged Eastern Ghouta.
Both photos were taken on November 30, 2017.
------------------------------------------------------------------------------
🇫🇷Malnutrition des assiégés de la Ghouta orientale :  Moustapha a 9 ans et vit avec ses parents et ses six frères et sœurs à Douma, dans la Ghouta orientale. Moustapha et sa famille sont devenus pauvres et ont de moins en moins accès à la nourriture.

À cause de la malnutrition, son poids est passé de 10 kg à 7 kg.
« Pendant la nuit, la douleur liée à la faim de Moustapha
s'aggrave et il se laisse tomber au sol, tenant son estomac et réclamant de la nourriture. Mon cœur se brise pour lui. Il devrait être beaucoup plus grand et plus fort. Il reste là, silencieux, le regard fixe, et il parle à peine », déclare la mère de Moustapha.

Moustapha fait partie des centaines d'enfants souffrant de malnutrition dans la Ghouta orientale assiégée.

Les deux photos ont été prises le 30 novembre 2017.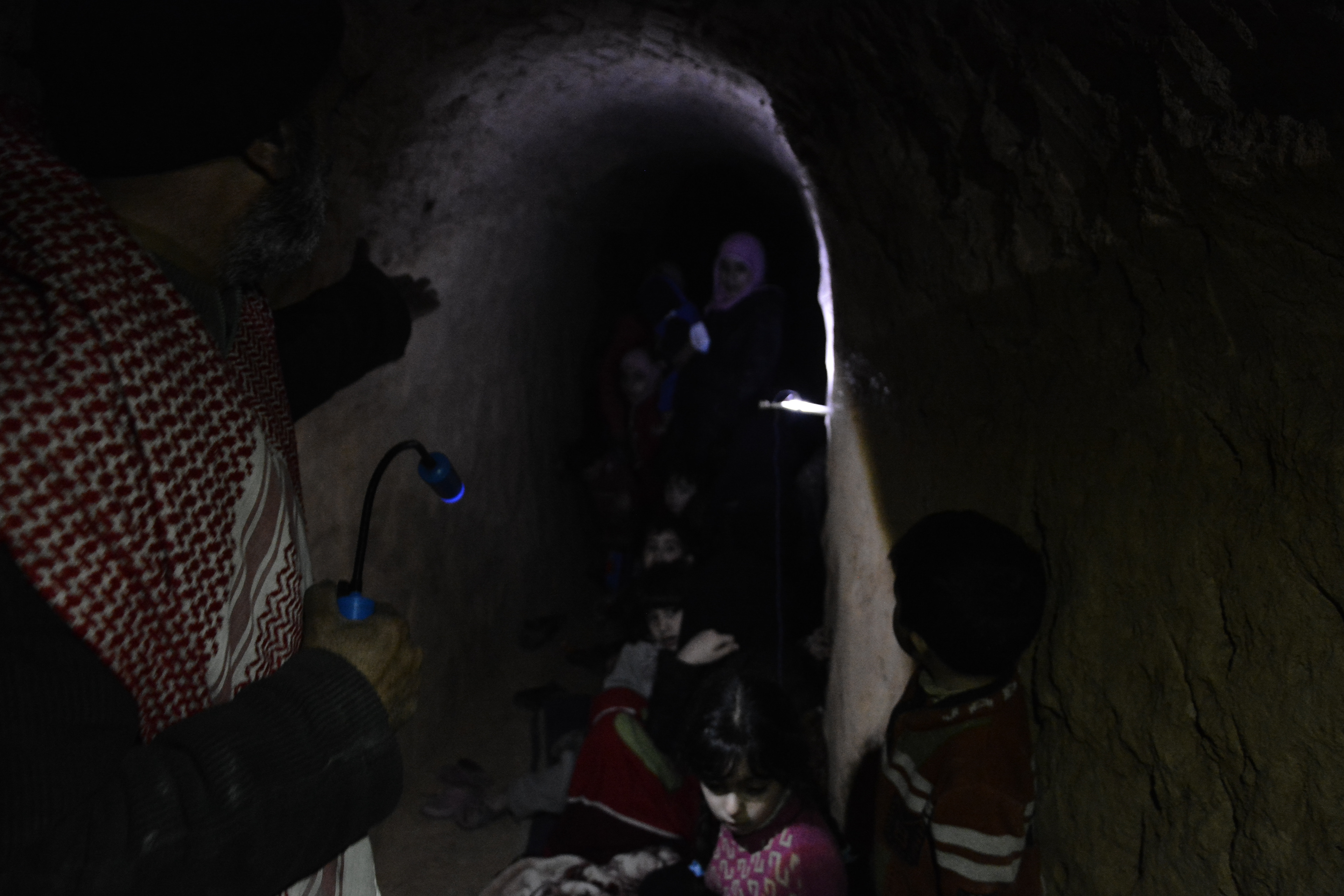 🇬🇧Families live their daily life inside the hand-dug tunnels of the underground shelters, where they lived without natural light, food, running water, or heating despite the extreme cold.  Image taken on February 21, 2018. 
🇫🇷Intérieur des abris et couloirs souterrains de Douma, où les familles vivaient sans lumière, sans nourriture, sans eau courante, ni possibilité de se chauffer malgré le froid, 21 février 2018.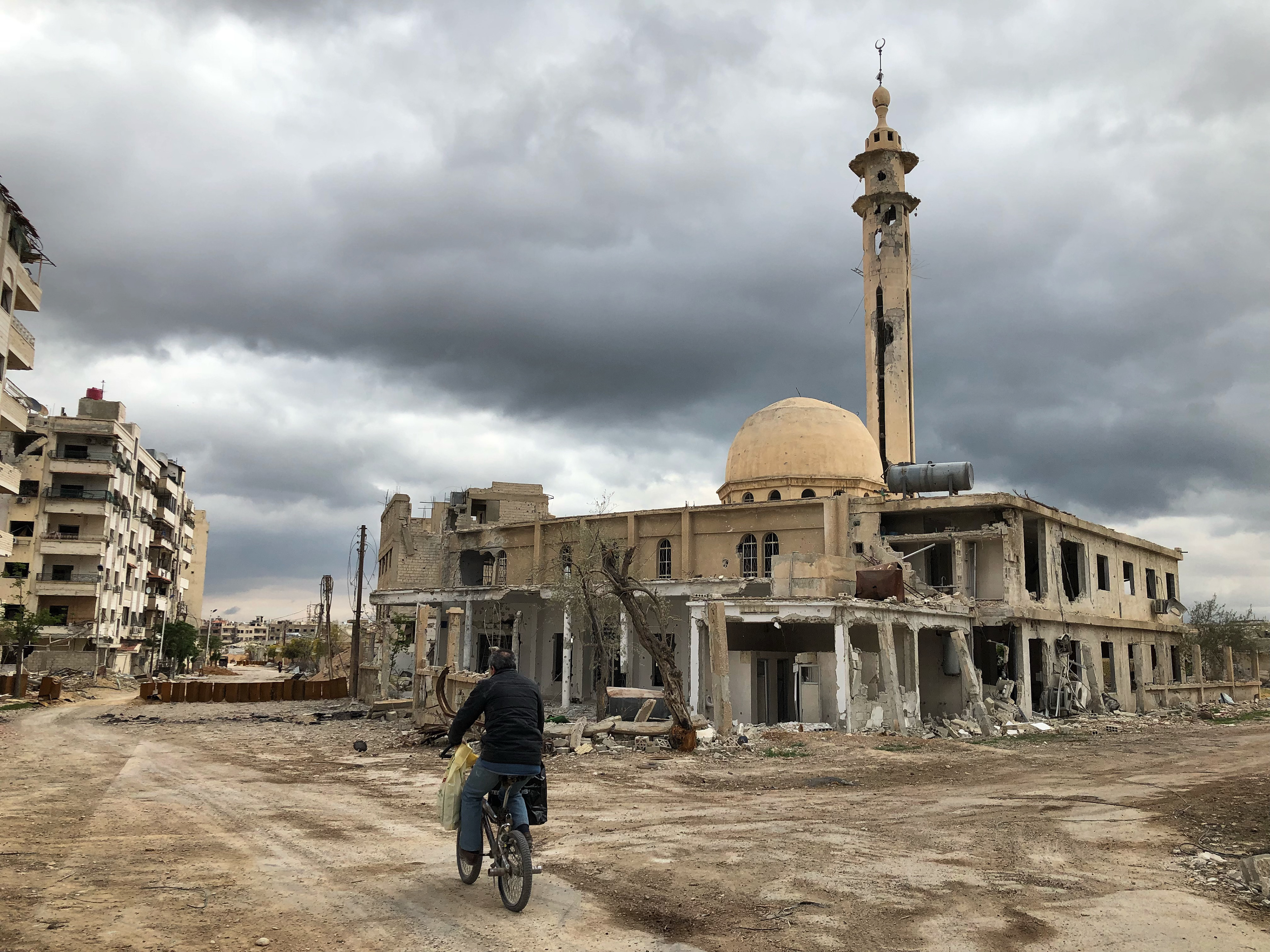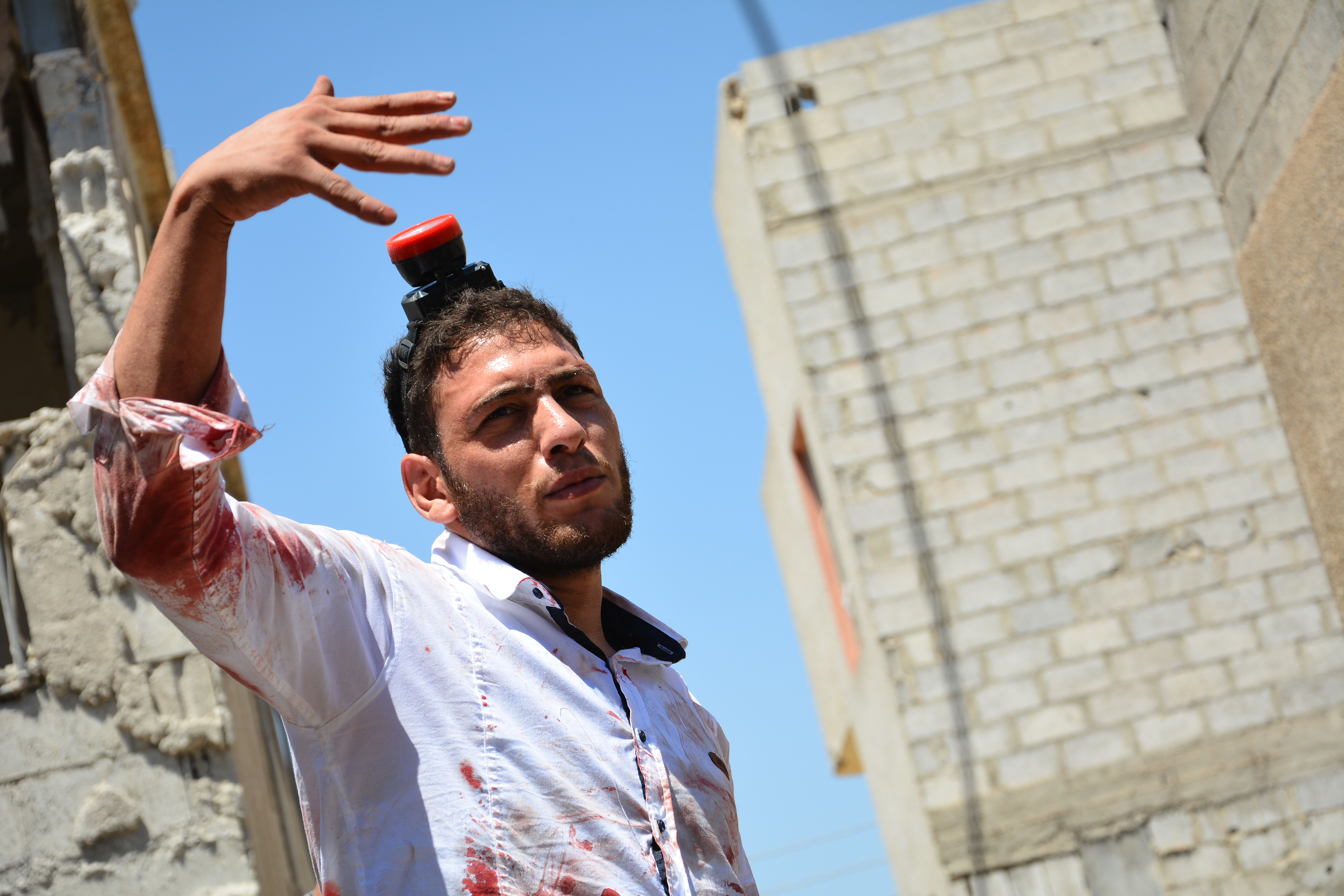 Abo Salamah: "Five so far!"

I still remember that day, July 27, 2016. It was noon.

It was a sunny day, an almost normal day on what we sometimes called Planet Douma, a place on Earth that, due to the siege and aerial bombardment seemed as if it were not actually of this earth.  A normal day for us meant daily bombardment, air strikes, and empty streets, except for the ambulances and Civil Defence first responder vehicles. As I had become accustomed to, I arrived in the targeted area and watched the Civil Defence team extract wounded survivors from a building destroyed by the regime air force.

I watched this man, known to his friends as Abo Salamah, also known as Muhammed Masarweh. I recognised him immediately because I was used to see him on the scene organising rescues, especially dangerous ones like this. Abo Salamah, as head of the Civil Defence in Eastern Ghouta, was always in the first vehicle going to the site of the latest strike. Sometimes he even arrived on a motorcycle ahead of the rest of the rescue team. I often drew courage from his drive. His willingness to rush to the scene motivated and inspired me.

That day, the rescuers were working very hard to free the wounded from the bombardment of their hellish situation, crushed in the rubble underneath what had been their rooftop. Abo Salamah was talking to an old woman who was trapped. I couldn't understand their words––only muffled sounds came through to me––but he seemed to be encouraging her.

After a while, Abo Salamah and his team succeeded––They pulled this old woman out from the rubble of what had been her house.

"Five so far!" Abo Salamah shouted.  He had managed to rescue five civilians that day, all in front of the crowd that was watching both this tragedy and search and rescue unfold.

I took this picture of him as he held up his hands, showing the number of civilians they had been able to rescue: Five.

Less than two years later, during the last Russian-backed military campaign by the Assad regime against Eastern Ghouta in early 2018, Abo Salamah was captured alive by Assad forces while visiting his farm on the outskirts of the city of Douma.

He was immediately executed with a bullet to the head. His body was found a few days later, at his farm, after rebels making progress on the ground discovered his body.

The news of his death shocked us all. March 9, 2018. That was his day—the day we lost Abo Salamah.
Abo Salamah "5 jusqu'à maintenant !!!" ...
Je me souviens encore de ce jour, du 27 juillet 2016 à midi.
C'était une journée ensoleillée, une journée presque normale sur la "planète Douma", une journée pleine de bombes et de frappes aériennes, des rues vides, exception faite des ambulances et des véhicules de la Défense civile. Depuis mon arrivée dans la zone qui avait été ciblée ce jour-là, et comme j'en avais pris l'habitude, j'avais observé le travail d'une équipe de la Défense civile en train d'extraire les blessés d'un bâtiment détruit par l'armée de l'air du régime.
J'ai observé cet homme, que ses amis surnommaient "Abo Salamah", de son vrai nom Muhammed Masarweh.
Quand je l'ai aperçu, je me suis nettement et facilement souvenu de lui, car j'avais l'habitude de le voir sur place, lors de chaque situation dangereuse. Abo Salamah, en tant que chef de la Défense civile, avait l'habitude de se trouver à l'intérieur du premier véhicule se rendant sur le lieu de la frappe. Quelques fois même, il arrivait sur place en moto, avant les équipes de secouristes. Souvent, j'ai puisé mon courage dans son élan, dans sa volonté à accourir sur le terrain.
Ce jour-là, les sauveteurs travaillaient très dur pour libérer les blessés du bombardement de cet enfer sous les toits. Abo Salamah était là-dessous en train de parler à une vieille femme qui était coincée. Je ne comprenais pas leur dialogue, dont seuls me parvenaient des sons assourdis... mais il semblait l'encourager.
Après un moment, Muhammed et son équipe ont réussi : ils ont extirpé cette vieille femme des décombres du toit de sa maison.
"5 jusqu'à maintenant !!!" cria Abo Salamah après avoir réussi à sauver 5 civils ce jour-là, devant la foule qui assistait à cette tragédie.
J'ai pris cette photo de lui alors qu'il faisait ce signe de la main, indiquant le nombre de civils qu'ils avaient pu sauver.
Lors de la dernière campagne militaire du régime d'Assad et des forces russes contre la Ghouta orientale début 2018, Abo Salamah a été capturé vivant par l'armée d'Assad alors qu'il visitait sa propre ferme dans les environs de la ville de Douma.
Il a été immédiatement exécuté d'une balle dans la tête. Son corps a été retrouvé quelques jours plus tard, dans sa ferme, après que les rebelles aient quelque peu progressé sur le terrain.
La nouvelle de sa mort nous a tous choqués. Le 9 mars 2018... c'était sa journée.