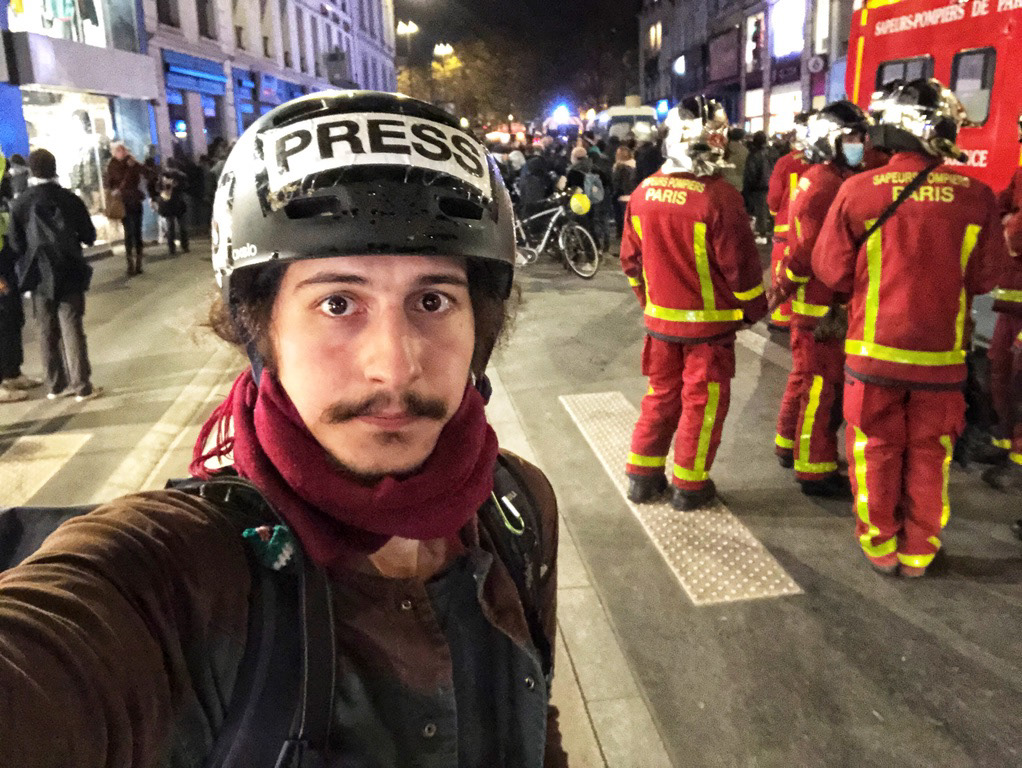 🇬🇧I started my career in journalism and reporting as an amateur with the beginning of the Syrian Revolution against Bashar al-Assad in March 2011.
I was 18 years old when I picked up my Nokia phone and took my first photos of pro-regime militias––locally called "shabbiha"––in my city of Douma. The shabbiha surrounded the city on April 1 and committed the first of many massacres downtown where local people had gathered for a protest. Since that day, and through the subsequent massacres I witnessed over the years, I learned to believe in the power of the image as a weapon against oppression. I learned that photography and film can carry the truth and deliver it all over the world.
During the five-year siege of Eastern Ghouta by the Syrian regime, from mid-October 2013 to the beginning of April 2018, I worked as a freelance photojournalist for several global media outlets such as
The Guardian
, 
Middle East Monitor
, BBC News night,
Deutsche Welle
,
Global Voices
,
Berlingske
,
L'OBS
, and many others. Covering what was happening on the ground under daily bombardment, I documented Russian and Syrian airstrikes,
 daily deaths, starvation, and the humanitarian situation under the siege.  I also documented the use of internationally banned weapons against civilians such as
cluster bombs
, napalm, and chemical weapons.
After seven bloody years of repressed demonstrations in which people were injured and killed by the bombardment of all kinds––from airstrikes to cluster bombs to barrel bombs to bunker-busting bombs––with a sky crowded with jets launching missiles over and into buildings. Helicopters dropping their explosive barrels on neighborhoods, we were forced to leave our destroyed city and flee to the north of Syria. By the end of March 2018, buses accompanied by UN convoys "evacuated" us from there, the word used for the forcible displacement of the remaining people of the city. April 1, 2018, was my last day in Douma after more than 1,825 days of continuous siege and unstoppable bombardment.
In June 2018, the decision was made. We were leaving Syria. We crossed the border from Syria to Turkey on the evening of July 21, 2018, crossing mountains and walking over the valleys. We arrived in Kilis, a city in the south of Turkey, at dawn the next day, and were in Istanbul at 10 o'clock that night.
After my arrival in France in 2018, I graduated with a Master's degree in "Journalist Reporter of Image" from The Superior School of Journalism in Paris 2020/2022. I resumed my photojournalism work as a freelance in Paris. I have been covering social movements in France among street protesters and different events in the French capital. I worked as well as a photographer for Guiti News, and as a video reporter for the C Politique show on France 5TV. Plus, I am a photo editor for AFP.
🇫🇷J'ai commencé ma carrière dans le journalisme et le reportage en tant qu'amateur avec le début de la révolution syrienne contre Bachar el-Assad en mars 2011.
J'avais 18 ans lorsque j'ai pris mon téléphone Nokia et mes premières photos des milices pro-régime - appelées localement "shabbiha" - dans ma ville de Douma. Les shabbiha ont encerclé la ville le 1er avril et ont commis le premier d'une longue série de massacres dans le centre-ville où la population locale s'était rassemblée pour une manifestation. Depuis ce jour, et à travers les autres massacres dont j'ai été témoin au fil des années, j'ai appris à croire au pouvoir de l'image comme arme contre l'oppression. J'ai appris que la photographie et l'image pouvaient porter la vérité et la transmettre dans le monde entier.
Pendant les cinq années de siège de la Ghouta orientale par le régime syrien, de la mi-octobre 2013 au début du mois d'avril 2018, j'ai travaillé comme photojournaliste et JRI indépendant pour plusieurs médias mondiaux tels que The Guardian, Middle East Monitor, BBC News night, Deutsche Welle, Global Voices, Berlingske, L'OBS, et bien d'autres. Couvrant ce qui se passait sur le terrain sous les bombardements quotidiens, j'ai documenté les frappes aériennes russes et syriennes, les morts quotidiennes, la famine et la situation humanitaire sous le siège.  J'ai également documenté l'utilisation d'armes interdites au niveau international contre les civils, telles que les bombes à fragmentation, le napalm et les armes chimiques.
Après sept années sanglantes de manifestations réprimées au cours desquelles des personnes ont été blessées et tuées, de bombardements de toutes sortes - des frappes aériennes aux bombes à fragmentation en passant par les bombes-barils et les bombes brise-bunker - avec un ciel encombré d'avions à réaction lançant des missiles au-dessus et dans les bâtiments, et d'hélicoptères lâchant leurs barils explosifs sur les quartiers, nous avons été contraints de quitter notre ville détruite et de fuir vers le nord de la Syrie. Fin mars 2018, des bus accompagnés de convois de l'ONU nous ont "évacués" de là, le mot utilisé pour désigner le déplacement forcé des habitants restants de la ville. Le 1er avril 2018 a été mon dernier jour à Douma après plus de 1 825 jours de siège continu et de bombardements imparables.
En juin 2018, la décision avait été prise. Nous quittions la Syrie. Nous avons traversé la frontière entre la Syrie et la Turquie dans la soirée du 21 juillet 2018, en traversant les montagnes et en marchant dans les vallées. Nous sommes arrivés à Kilis, une ville du sud de la Turquie, à l'aube le lendemain, et nous étions à Istanbul à 10 heures le soir même.
Après mon arrivée en France en 2018, j'ai été diplômé d'un Master " Journaliste reporter d'images " de l'École Supérieure de Journalisme à Paris 2020/2022. J'ai repris mon travail de photojournalisme en tant que freelance à Paris. Je couvre les mouvements sociaux en France parmi les manifestants et des différents événements dans la capitale française. J'ai également travaillé en tant que photographe pour Guiti News, et en tant que journaliste reporter d'image pour l'émission C Politique sur France 5TV. Je travaillé également comme rédacteur photo pour l'AFP.
People's Voices Always Matter